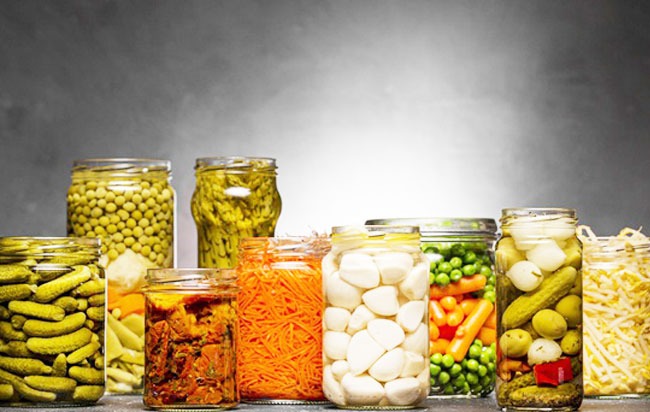 Eating well nowadays is, more than a necessity, a philosophy of life and, for this reason, you have to choose carefully what to eat .
Fruits, vegetables and vegetables are an important resource for our well-being, a source of vitamins, minerals and natural antioxidants. But for the supply of these precious nutrients to be truly effective, it is essential to take seasonal vegetables, which have reached full maturity spontaneously and according to the rhythms dictated by nature.
The first step, therefore, consists in recognizing the seasonality of foods ; the one immediately following, in learning to store them correctly .
How to store perishable food
fresh or raw foods must necessarily be kept in the refrigerator and eaten quickly, in any case within the expiry date indicated on the package.
Although the fridge and freezer are two great allies for the preservation of cooked and raw foods, always remember that bacteria do not suffer from the cold: for this reason it is good to periodically clean the shelves and walls of the fridge and keep the temperature constant internal, setting it to the average of 4/5 °.
Rather than leaving them in the serving dish or in the pan used for cooking, it is better to store prepared or leftover foods in special clean containers , fitted with a lid: by adopting this system, you will avoid falling of drops on the underlying foods and stored foods will remain fresh and safe until the next consumption.
The salad should also be placed in the fridge and, if already seasoned, it should be eaten within one day from the moment it was prepared.
Storing it in special containers also allows you to take it with you even outside the home: for example, inside Spice-Bento Box , the lunch box made of ecological and biodegradable material, designed to be used in the microwave, but also ideal for storing food in the refrigerator or freezer, down to temperatures of -20 °.
How to keep food stable
Stable foods (such as pasta and rice, oil, canned foods, jars or cans, dry biscuits ...) do not need to be kept in the fridge and can be stored at room temperature , inside the pantry.
Even if simpler, storage in the pantry has precise rules that must be respected: the containment spaces must always be dry and fresh, well cleaned and away from sources of light and heat. < / p>
Some stable foods (such as, for example, sauces and gravies in jars), once the package is opened, must be placed in the refrigerator and consumed in a relatively short time.
Always valid advice? Especially if the original packages are not resealable , we can use airtight containers specially designed for food storage: they keep the freshness and flavor of food unaltered for a long time, also protecting them from possible contamination .
Good practice for the conservation and consumption of food
In autumn and winter, therefore, say goodbye to summer products and focus on those that nature offers us.
Consuming food following the natural cycle of the seasons is the best way to enjoy tastier foods with a maximum concentration of nutrients, also avoiding the ingestion of substances harmful to health, such as fertilizers and pesticides .
Carefully monitoring the temperature and humidity conditions of the environment in which they are stored, constitutes the basis for a rational and diversified conservation of food: in this way, the organoleptic and nutritional characteristics are maintained for a long time and food can be safely consumed even after some time, avoiding the proliferation of harmful bacteria, cause of intoxication and infections.
An excellent, alternative and completely natural method of preserving vegetables is the food dehydrator , such as Teseko by Spice , available in models with 3 or 5 compartments. Thanks to the dehydration procedure with adjustable temperature , fruit and vegetables keep 90% of the nutrients and organoleptic characteristics unaltered and can be consumed in absolute safety even after some time.
How to best store and transport products at work
Now more and more often we choose to have lunch in the office with a menu prepared personally: to do it in absolute comfort, all you need is reliable containers, which guarantee safe food storage, hygiene and handling.
Like the thermal lunch kit Spice Amarillo : versatile and complete with everything you need for a meal away from home, it is equipped with a portable electric food warmer, which works simply by connecting it to a power outlet using the convenient 80 cm cable and consumes only 40 watts.
The internal trays are made of stainless steel, are removable and washable and can also contain several different dishes, thanks to the multiple compartments .
Maximum functionality and practicality even outside the home , therefore: not only sandwiches and salads but, if we want, also a real meal ready to be heated quickly and enjoyed immediately afterwards.
Comments (0)
No comments at this moment